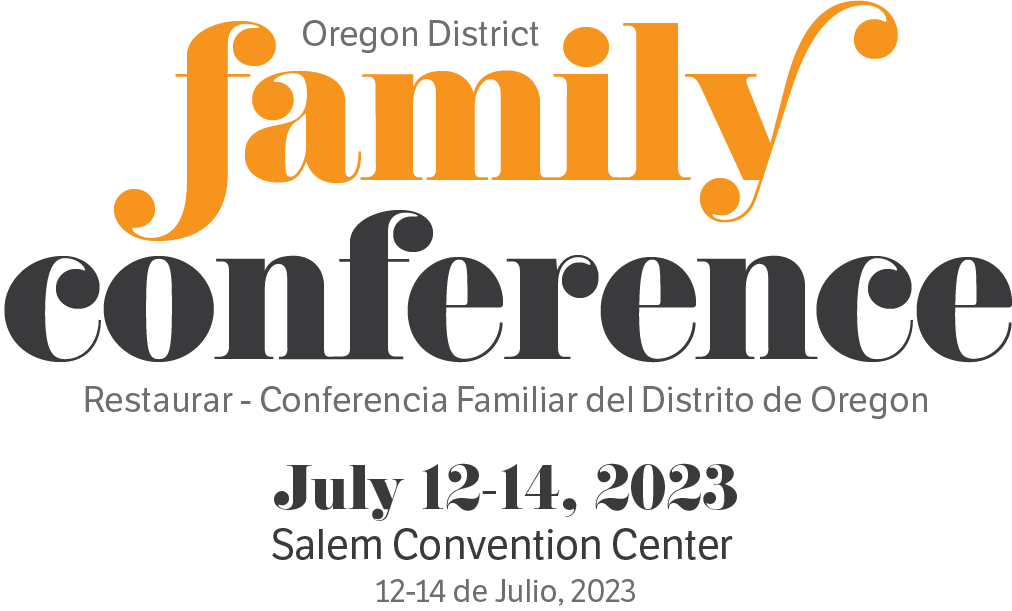 7:00 PM
Ministry Presentations: Global Missions
7:15 PM
Ministry Presentations: Spanish Evangelism
7:30 PM
Evening Service with Jerry Jones S
9:45 AM
Directed Prayer - Jerry Miranda
10:15 AM
Local Ministers (Andy Gleason, Aaron Miranda)
11:00 AM
Children/Youth Classes
Day Session with Scott & Susan Armstrong
1:00 PM
Afternoon Break
6:45 PM
Ministry Presentations: Ladies
7:00 PM
Ministry Presentations: Men
7:15 PM
Ministry Presentations: Children
7:30 pm
Evening Service with Jerry Jones S
Children's Crusade after Worship Service
9:45 AM
Directed Prayer - Superintendent Steve Hanson
10:15 AM
Local Ministers (Titus Sargeant, Ruben Cortez)
11:00 AM
Children/Youth Ministry
Day Session with Scott & Susan Armstrong
1:00 PM
Afternoon Break
6:45 PM
Ministry Presentations: Youth
6:45 PM
Ministry Presentations: EXCEL
6:45 PM
Ministry Presentations: North American Missions
7:30 pm
Evening Service with Jerry Jones S
S Spanish interpretation for all PM services. Radios & headphones will be provided.
for Current & Aspiring Ministers/Spouses
7:00 PM
Pre-Service Prayer
7:30 PM
Departmental Awards
Superintendent Steve Hanson
Ordination Service for Jason Reeves
9:30 PM
After Service: Fellowship dinner for ministers & their immediate family living in their home.
10:30 AM
Spanish Elections
10:45 AM
Business Meeting
Minister's Wife's Tea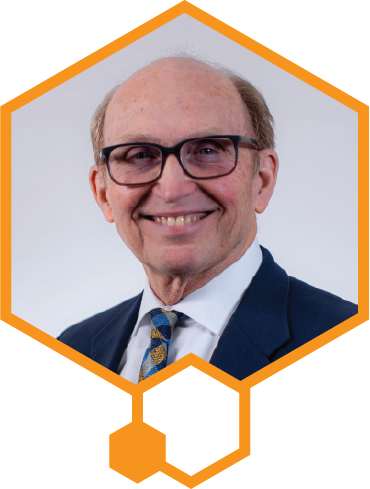 Jerald "Jerry" Jones was born on October 19, 1952, in Tylertown, Mississippi, the second of three children born to Norman and Myrtle Hill Jones. Both the Jones and Hill families had Pentecostal backgrounds. Myrtle received the Holy Ghost as a teenager but drifted from her faith when she left home for business college in Jackson, Mississippi. Norman left home at age sixteen when his mother died of cancer. When asked about his religion, Norman would always say "I'm nothing, but if I were, I'd be a Pentecostal."
Myrtle and Norman met at a Jackson skating rink while he was on leave from the Army, and they married in 1948. After following drilling rigs across Louisiana and Texas, the family settled in the small central-valley town of Kerman, California. While never attending church themselves, Norman and Myrtle made sure their sons went to Sunday School at the small UPC church on Kearney Avenue. Albert Cagle was the pastor, and the Keyes family was prominent members. Sometimes, when Myrtle's job prevented her from dropping the boys off at church, Isaac Keyes would give them a ride. Bonnie Keyes was Jerry's Sunday School teacher, and the two Keyes boys, Randy and Rickey, encouraged the Jones boys to be involved with the youth group.
In the fall of 1962, Myrtle began to suffer from severe headaches. In early December, she was stricken with a headache while visiting Norman's sister Onita, who was an Assemblies of God preacher. Onita prayed for her, and Myrtle later said, "I would have died if Onita hadn't prayed." This stirred an old hunger in Myrtle, and she prayed back through shortly thereafter. On January 5, 1963, Myrtle collapsed at home and died.
Later, Norman married Myrtle's younger sister, Elaine. Elaine, who had never previously been married, had been a dedicated Christian since receiving the Holy Ghost at a tent revival in 1950. Her influence changed the Jones family forever. Over time, at least thirty-five members of the extended family received the Holy Ghost, and Onita accepted Jesus' name baptism.
The Jones family eventually moved to Bakersfield, California, and began attending the UPC church where Leon Stobaugh was the pastor. There, Norman received the Holy Ghost and was baptized, and Larry and Jerry both were baptized. While in Bakersfield, Jerry was greatly influenced by his Sunday School teacher, Ronnie Mullings, who also served as the church's youth leader and choir director. Mullings later became a prominent UPC pastor and leader.
In 1965, the family made one last move, returning home to Tylertown, where they attended Stateline UPC, led by Pastor A. E. Carney. On June 8, 1966, Jerry received the Holy Ghost while attending Louisiana Youth Camp. Among those praying with him was his pastor's son, James Carney, who later became a respected UPC pastor and leader.
During his high school years, Jerry was a Bible quizzer in the new quizzing program developed by the UPC Youth Division. The Stateline team were Louisiana District champs three times in the five years Jerry participated. After high school, Jerry attended the University of Louisiana at Monroe. While there, he acknowledged the call to preach he had been feeling since he first received the Holy Ghost. He began evangelizing in 1971, while still a college student.
The following year, Jerry was invited to preach a revival in Winnsboro, Louisiana. While there, he met Phyllis Ann Parks, who quickly became the love of his life. They were married in 1972. The couple adopted their son, Dustin, in 1984, and God eventually blessed them with the greatest grandson in the world, Gavin.
The Joneses accepted the pastorate of First United Pentecostal Church (now New Life Tabernacle) in Metairie, Louisiana, in July 1977. While in Metairie, Brother Jones served as sectional youth leader, district youth secretary, and district youth president. He was elected general youth secretary in October 1985, and two years later he became general youth president of the United Pentecostal Church International (UPCI).
In March 1993, the Joneses became the pastors of New Life Pentecostal Church in Bridgeton, Missouri. The following year, Brother Jones' fellow pastors elected him to serve as their sectional presbyter, a role he filled until 1999. He also served as an instructor at Gateway College of Evangelism from 1994 to 1998. In addition, he was a member of the Board of Publications of the UPCI from 1997 to 1998, and in October 1997 he was elected to a one-year term as north-central regional executive presbyter.
In October 1998, Brother Jones was elected general secretary-treasurer of the UPCI, succeeding Cleveland M. Becton. In this new role, Brother Jones helped the UPCI transition from analog to electronic record keeping and establish an online presence. During his tenure the organization grew from $37 million to $64 million in annual revenues, necessitating the establishment of updated business practices, which Brother Jones helped implement. He retired on December 31, 2018, having faithfully served three general superintendents, Nathaniel A. Urshan, Kenneth Haney, and David Bernard.
A ministerial contemporary described Brother Jones as "one of the most unique blends of pulpit skills and administrative gifts." Throughout his ministry, Brother Jones has been an in-demand speaker, having been invited to preach hundreds of conferences, camp meetings, and special services in more than thirty nations across six continents. He is known for challenging, convicting, and uplifting sermons such as "Amnon Had a Friend," "As an Eagle, So the Lord," and "Learning How to Live Without God."
A collection of Brother Jones' sermons is included in the Pentecostal Pulpit Series, and "Amnon Had a Friend" became the title of a book featuring some of his most memorable messages. Brother Jones also is the author of Cheated and We Preach. The latter book, a theological defense of Apostolic preaching, is required reading for anyone seeking ministerial credentials with the UPCI.
Brother Jones holds a Master of Theological Studies degree from Urshan Graduate School of Theology (UGST) and presently serves as a full-time faculty member at Urshan College and as director of the school's Christian Ministry program. He also remains a sought-after speaker.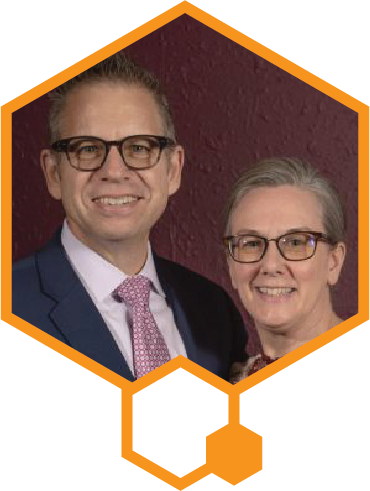 Scott & Susan Armstrong started a church near Nashville, TN and were there for 18 years. Under their leadership, the church grew, built a beautiful campus, and began multiple daughter works. Pastor Armstrong served the Tennessee District in multiple leadership positions before moving to St. Louis, MO to serve at North American Missions. Pastor Armstrong is known for developing leaders, dynamic speaking and a superb sense of humor! Susan is also an excellent teacher, administrator and her banana pudding is legendary!
200 Commercial Street SE
Salem, Oregon 97301
(503) 589-1700
Christian World Fellowship
4932 Liberty Road South
Salem, Oregon 97306
(503) 363-0828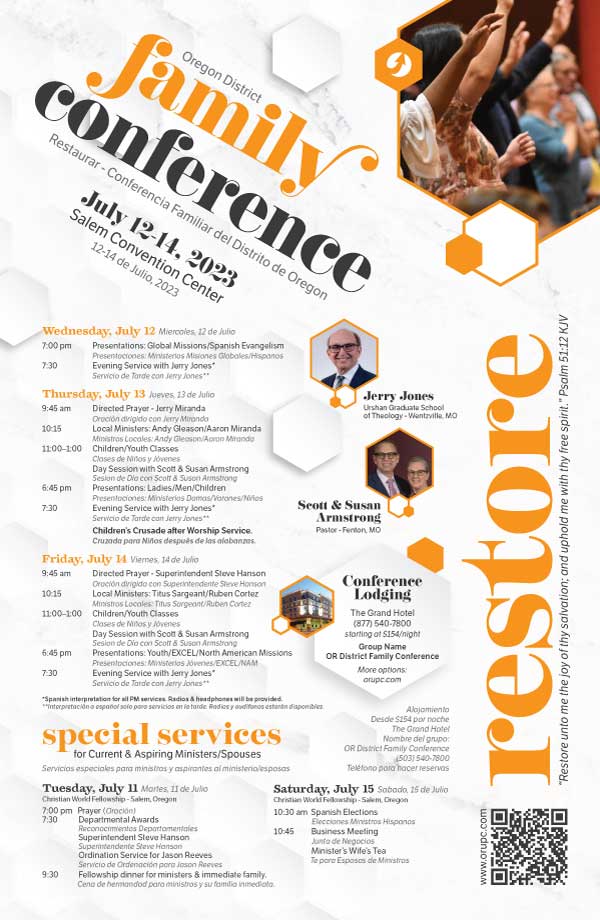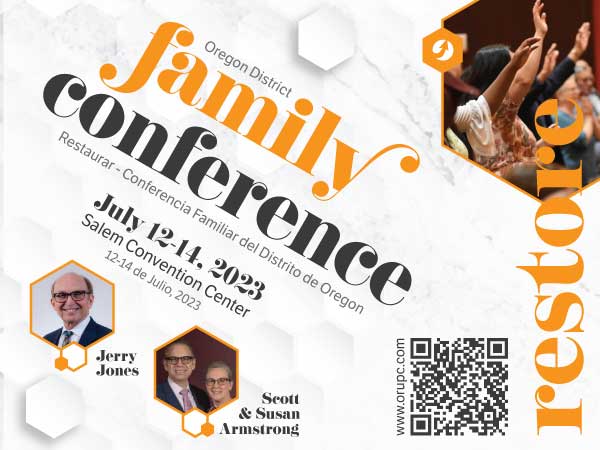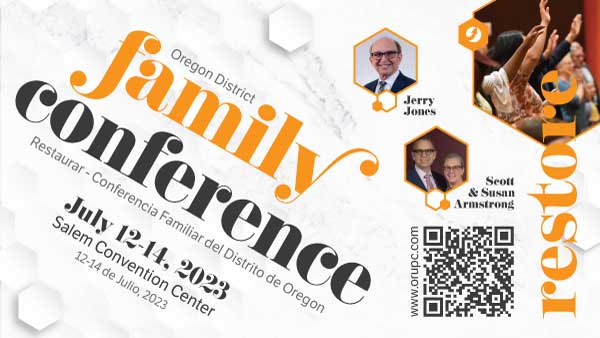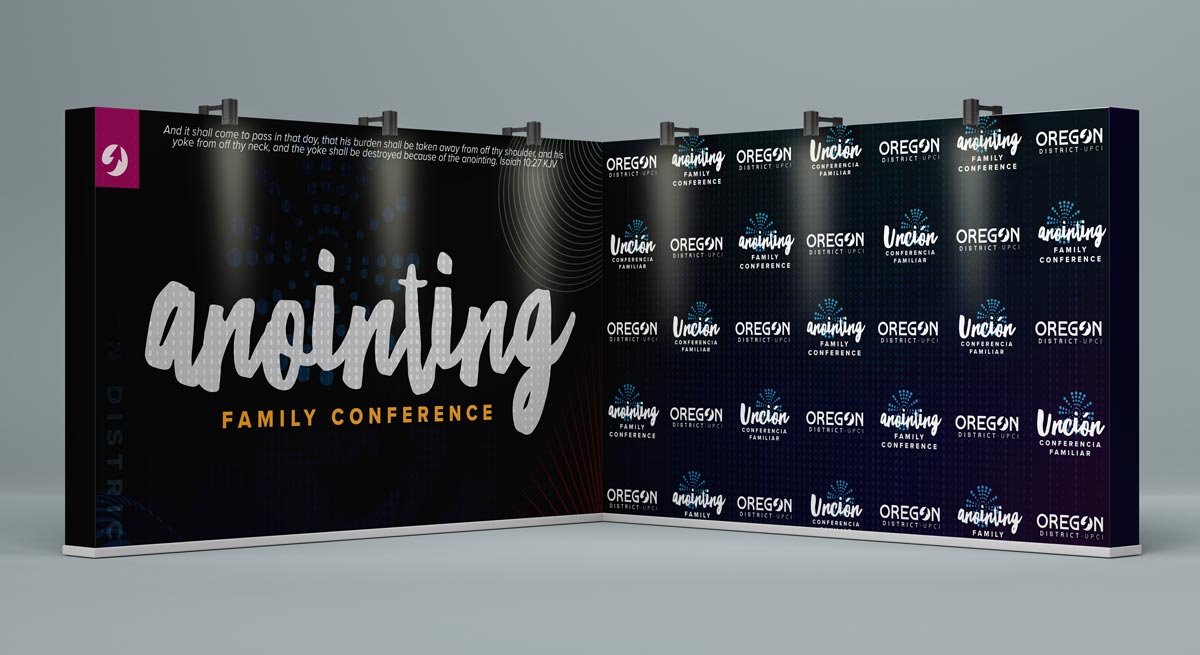 Family Conference exhibit space registration is open! Thank you for your interest this year!!
If you are an Oregon District UPCI Department, registration is free. However, you must still register.
To be a general exhibitor, you need to register for exhibition space. Final approval for your business or ministry will occur after registration. If your registration is declined, your money will be refunded.
Goals and objectives:
Connect ministers and constituents with resources and services that can enhance or benefit their local church or ministry.
Create an opportunity for professional and ministry networking.
Exhibitors generally accepted:
Businesses or ministries endorsed or recommended by UPCI or any division of UPCI.
Businesses or ministries owned, operated, or endorsed by a UPCI minister in good standing.
Businesses owned or operated by Apostolic constituents that share a common faith.
Secular business of good reputation offering products or services that directly benefit local churches or ministries.
Exhibitors generally rejected:
Ministries that do not share a common Apostolic faith.
Ministries rejected for endorsement or recommendation by UPCI or any division ofUPCI.
Businesses rejected for recommendation by UPCI, any division of UPCI, or any official of UPCI.
Businesses of questionable reputation.
Businesses that do not offer products or services directly benefiting local churches or ministries.
Like and subscribe to our YouTube channel to easily find all current and past Family Conference videos. After subscribing, turn on notifications to receive a message when new content has been released!
Like and subscribe to our Spotify for Podcasters channel to easily find all current and past Family Conference videos.